This is a gallery wrap canvas.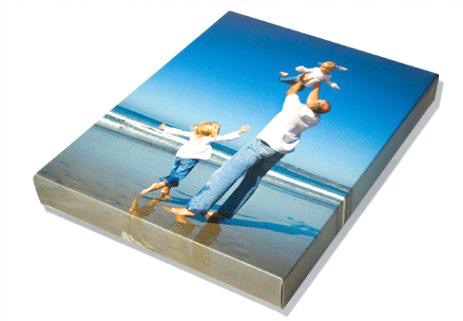 Canvas Stretching

We offer canvas stretching as the best price in the market. We hand stretch all our canvas with precision.
The difference between a gallery wrap and a stretched canvas:
Many people get confused between a gallery wrap and a stretched canvas. Gallery-wrap is a modern style of displaying art over thick wooden bars. It is a stretched canvas that doesn't have any visible staples or nails holding the canvas to the wooden stretcher bars so the painting could be hung unframed.
Stretched canvas, on the other hand, is something completely different. In order to have your painting framed, it first has to be stretched across stretcher bars. A stretched canvas differs from a gallery wrap. First, the stretcher bars are thinner, allowing the staples to show on the sides of the wood. Therefore, unlike the gallery-wrap, a stretched canvas is not a ready to hang piece of work.
Gallery-wrap is a very popular way to display art. However, because the edges of the canvas are wrapped over the thick bars, about two inches of the painting from each side are lost in the wrap, unless the canvas is prepared with enough extra canvas for wrapping. In order to minimize the effect of the area lost in the wrapping process, various photo editing techniques are often employed to fabricate additional image or material to be presented on the wrapped edges.

We offer two types of canvas presentation:
One is a regular stretch (museum wrap) where the white borders of the canvas are folded over and only the image is seen from the front. If there are no white borders (or they are not wide enough for stretcher bars), a gallery wrap is recommended so that no staples are visible. A gallery wrapped canvas is when the image flows onto the sides as well. This is a more complete look. Most people prefer to frame their stretched canvas as opposed to a gallery wrapped canvas. Others prefer stretched canvas because maximum image can be achieved for viewing.
If either of these methods does not suit your needs, or you are looking to do it yourself, you can order a painting unstretched and shipped to you. The printed canvas will be rolled up and shipped in a tube. Any professional framer will have no problem stretching and framing the unstretched canvas for you.
Normally, stretched canvas will be mounted with a frame.